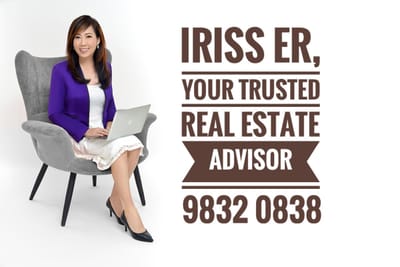 My name is Iriss Er and I am Your Real Estate Advisor. I joined ERA Realty Network Pte Ltd as a realtor since 2009. Besides being as a Realtor, during my earlier days, I had worked as a Certified Public Accountant in many private and MNC companies in many different industries.

Over my past years of experience as Realtorprenuer, I had helped many of my clients to buy, sell and rent out their apartments/offices. My clients are with me since I started my Real Estate journey and we had now became good friends. I believe in understanding my client's needs first and then to provide them with a solution. Over the years, I have gathered many marketing strategies that can help my client to sell their apartments/offices. I also continue to upgrade myself with new knowledge and technology to keep in pace with the current methodology.

I have experienced in

Private condo resale/rental - 75%
Commercial/Industrial resale/rental - 12%
HDB resale/rental - 11%
New project sale - 2%

Having experience in the commercial world and the real estate environment, I am able to provide you the right insights and advices not just in real estate but many more....

Serve with my heart !!!